Title: Reconstruction of ancient microbial genomes from the human gut
Authors: Marsha C. Wibowo, Zhen Yang, Maxime Borry, Alexander Hübner, Kun D. Huang, Braden T. Tierney, Samuel Zimmerman, Francisco Barajas-Olmos, Cecilia Contreras-Cubas, Humberto García-Ortiz, Angélica Martínez-Hernández, Jacob M. Luber, Philipp Kirstahler, Tre Blohm, Francis E. Smiley, Richard Arnold, Sonia A. Ballal, Sünje Johanna Pamp, Julia Russ, Frank Maixner, Omar Rota-Stabelli, Nicola Segata, Karl Reinhard, Lorena Orozco, Christina Warinner, Meradeth Snow, Steven LeBlanc & Aleksandar D. Kostic
Year: 2021
Journal: Nature
Ever wonder why we have always been told to take pro-biotics? Or why certain foods containing live cultures like yoghurts and kombucha are promoted so heavily for that 'healthy gut'? Media today is rife with messages about how to keep our gut healthy and happy, but what do we actually know about our intestinal microbiome? And can the foods that we eat really make an impact?
The gut microbiome is made up of billions of microorganisms (think bacteria) that live in our intestinal tract and help us digest food and absorb nutrients.  Additionally, some chronic diseases such as autoimmune disorders are now thought to be influenced by our gut microbiome, highlighting how important it is to understand these intestinal machines.  Not all microorganisms are good for our gut health, so it's important that we feed our good bacteria healthy foods to keep the bad bacteria at bay.  Industrialisation has dramatically changed the way we eat as we no longer rely on hunter-gatherer lifestyles.  Consequently, recent research conducted by Wibowo and co-workers (2021) has shown this to have had a dramatic impact on our gut microbiomes.
To investigate ancient human microbiomes, the authors took eight samples of preserved ancient human faeces called palaeofaeces from the Boomerang Shelter, Arid West Cave, and Zape archaeological sites (Figure 1 left).  The samples were examined and found to be 1,000 to 2,000 years old, well-preserved, of human origin, and had minimal contamination from soil and modern day DNA which made them ideal for the study.  So what can the palaeofaeces tell us about the microbiomes of our ancient ancestors?  To answer this, the authors reconstructed the microbial genomes of the ancient DNA found in the palaeofaeces to gain insight into the ancient gut microbiome and how it compares to today.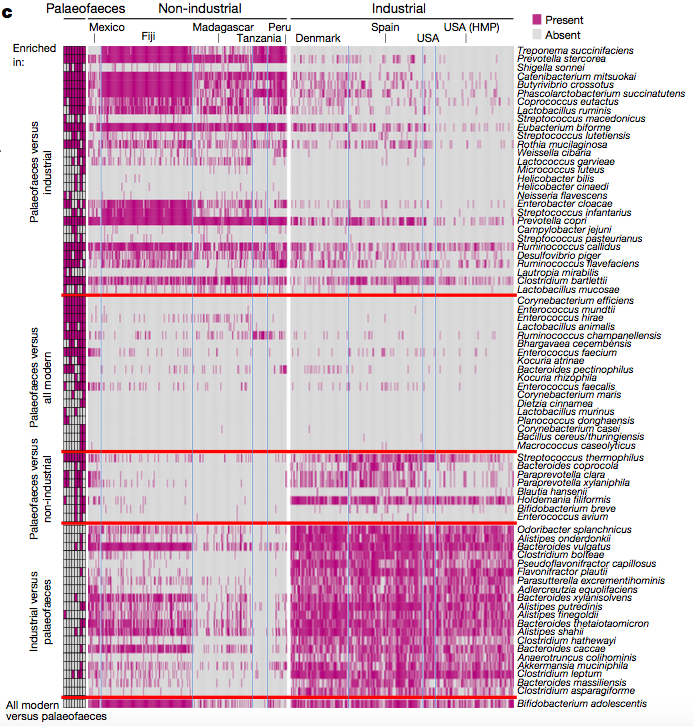 The authors compared the ancient genomes found in the palaeofaeces with 789 modern day samples from both this study and publicly available genomes collected from industrial (USA, Denmark, and Spain) and non-industrial populations (Mexico, Fiji, Peru, Madagascar, and Tanzania). Using a presence-absence heat map (Figure 2), the authors could visually represent the data to easily identify microbial species overlap between the sample groups. Interestingly, the authors found that the palaeofaeces were more similar to the modern day non-industrial samples than the industrial samples in their microbial genome composition. This indicated that the gut microbiome of non-industrialised modern populations is likely to be much more similar to ancient humans than the corresponding industrialised populations. Additionally, the authors noted that the palaeofaeces and non-industrial samples contained more carbohydrate degrading enzymes (CAZymes) which may be attributed to a greater consumption of complex carbohydrates, such as whole grains, starchy vegetables, and beans, rather than simple sugars, such as sugary drinks or fruits.
With industrial populations consuming such a vastly different diet than our ancient ancestors, it is not surprising to discover that our gut microbiome has diverged from our predecessors. The obvious differences in microbiomes between industrial and non-industrial populations begs the question though of how much external influences like diet affect our microbial flora. With research emerging into how our gut microbiomes may influence disease, it becomes increasingly important to understand how modern day microbial gut populations may differ from their ancient ancestors. Wibowo and co-workers (2021) have demonstrated that palaeofaeces can be rich sources of ancient microbial DNA which can help us elucidate the nature of our ancient gut microbiomes and how they may have evolved over time.