Title: A 3D-Printed Magnetic Digital Microfluidic Diagnostic Platform for Rapid Colorimetric Sensing of Carbapenemase-Producing Enterobacteriaceae
Authors: Pojchanun Kanitthamniyom, Pei Yun Hon, Aiwu Zhou, Mohammad Yazid Abdad, Zhi Yun Leow, Nurhidayah Binte Mohamed Yazid, Vanessa Lim Wei Xun, Shawn Vasoo, and Yi Zhang
Journal: Microsystems and Nanoengineering (Nature)
Year: 2021
Header image adapted from Kanitthamniyom, P., Hon, P.Y., Zhou, A. et al. A 3D-printed magnetic digital microfluidic diagnostic platform for rapid colorimetric sensing of carbapenemase-producing Enterobacteriaceae. Microsyst Nanoeng 7, 47 (2021). https://doi.org/10.1038/s41378-021-00276-9
Infectious diseases caused by viruses, bacteria, fungi, and parasites are critical threats worldwide, claiming millions of lives each year. The problem is that pathogens are constantly evolving to circumvent our current treatment methods. One type of gram-negative bacteria known as carbapanemase-producing Enterobacteriacae (CPE) is especially of concern. It is primarily found in hospital settings, which are optimal breeding grounds and transmission sites for pathogens.
CPE have learned to fight back against the carbapenem class of antibiotics, which are drugs of last resort. These pathogens produce an enzyme called carbapenemase which chews up our medicine and spits it back out into extracellular space. Suddenly, our antibiotics are inactivated and CPE bacteria can continue to grow and thrive.
Conventional methods for detecting CPE are time-consuming, resource-demanding, and require a lot of effort, chemical reagents, and technical expertise. One such method is the Hodge test. In 2021, a group of researchers at Nanyang Technological University and the National Centre for Infectious Diseases in Singapore (Kanitthamniyom et al.) aimed to revolutionize the way that CPEs are detected and developed a quick, cost-effective, and user-friendly miniature device.
Biochemical assays are usually performed in well-plates or test tubes and thus require large volumes of reagents. However, ever since the field of microfluidics has emerged, things have changed. Microfluidics is the precise control or manipulation of fluids that are constrained to a miniaturized scale. This physics principle notably led to lab-on-chip devices wherein assays can be performed on-site in clinical or environmental settings. These devices are portable and inexpensive, requiring little volumes of reagents and providing quick results – a portable lab that you can hold in your hands and bring to the sample. Kanitthamniyom et al. leveraged the power of microfluidics to create a convenient device for colorimetric CPE detection.
The method is called MDM (Magnetic Digital Microfluidics) Carba. The 3D-printed device, roughly half the size of a sheet of paper, uses droplets instead of large volumes of liquid to test for CPEs and is driven by magnetic force. As shown in Figure 1B below, one droplet (green) has the suspected CPE bacteria in it with lysis buffer, which will cause the bacteria cells to rupture. The other droplet (red) has a pH-sensitive red phenol solution and an antibiotic that CPE is resistant to. The droplets also contain magnetic particles. The operator simply moves the platform back and forth to mix the 2 droplets together. If CPEs are present, then the inactivating carbapenemase enzyme is present, and the enzyme will hydrolyze (or chew up) the impeneum antibiotic by breaking a chemical bond. This will cause the pH of the solution to increase. When this happens, the phenol red turns yellow! Thus, if the solution is yellow, CPE bacteria is present. If it stays red, then no CPE bacteria is present (Figure 1A).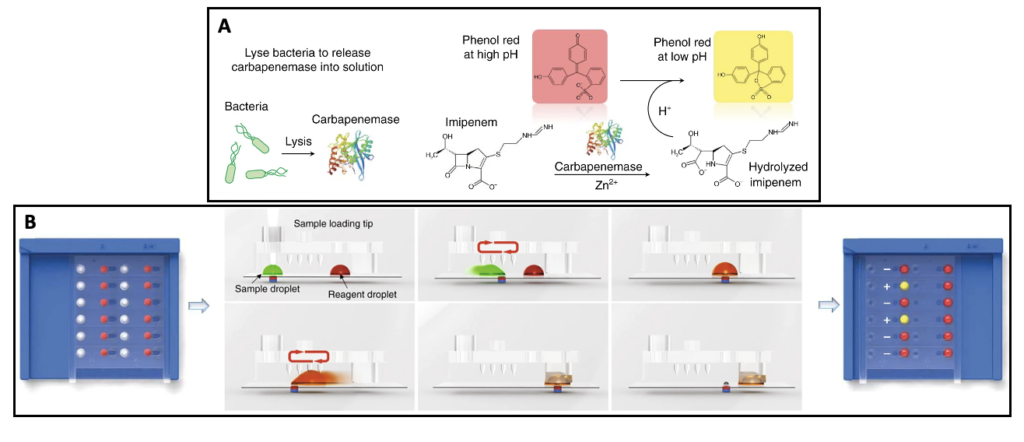 The authors made automatic and manual versions of the device (Figure 2). The manual version (Figure 2b) requires the operator to move the device back and forth, which is great for resource-limited settings where access to technology is limited. In contrast, the automatic version (Figure 2c) allows the user to control the device using a cell phone or PC. This version is driven by an arduino and step motor. The researchers found that both the manual and automated versions of MDM Carba statistically perform just as well as the test tube and well-plate versions of the test.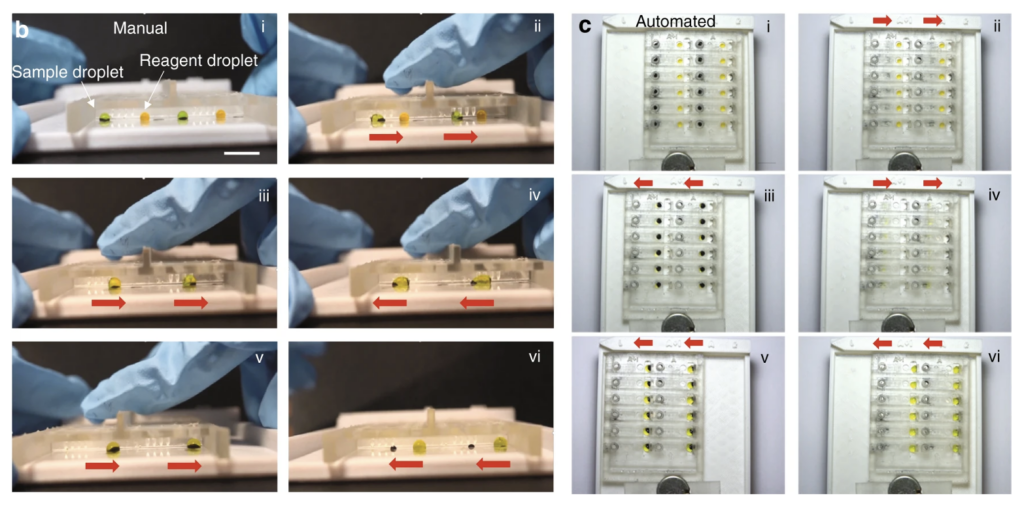 But what if you think the resulting droplet is yellow? And your friend thinks it's orange-ish? Is CPE actually present? There's a viable solution! The researchers used an RGB color map (Figure 3C) on freely available software called ImageJ to objectively assign the color of each mixed droplet. The results are shown in Figure 3. On each device, column A is the control panel which does not contain antibiotics. Thus, these droplets are always red since hydrolysis is not possible. The columns labeled A+I are the sample columns with either yellow droplets (CPE present) or red droplets (CPE absent).

Overall, the researchers were able to create a method for effectively detecting CPE bacteria. The device is portable and uses magnets as opposed to less robust moving parts such as pumps and valves that are traditionally used in microfluidics. The new method requires very little reagents and produces results with short wait times. Hopefully, devices like this will emerge in clinical settings and allow for point-of-care testing at the bedside.
This is an unofficial adaptation of an article that appeared in an open access Nature publication. Nature has not endorsed the content of this adaptation or the context of its use.
Figures are adapted from Kanitthamniyom, P., Hon, P.Y., Zhou, A. et al. A 3D-printed magnetic digital microfluidic diagnostic platform for rapid colorimetric sensing of carbapenemase-producing Enterobacteriaceae. Microsyst Nanoeng 7, 47 (2021).
Reference: Kanitthamniyom, P., Hon, P.Y., Zhou, A. et al. A 3D-printed magnetic digital microfluidic diagnostic platform for rapid colorimetric sensing of carbapenemase-producing Enterobacteriaceae. Microsyst Nanoeng 7, 47 (2021). https://doi.org/10.1038/s41378-021-00276-9